4br ***Sold in 4 Days*** - 150000! 2933 Truman NE (3-4 BR2 BA1510 SF 27-ft BKYD Alley Access MLS#735598) in Albuquerque, New Mexico For Sale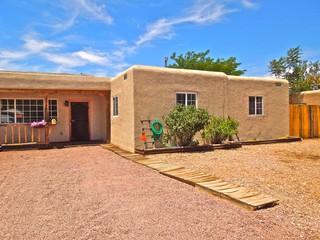 Price: $150,000
Seller:
Type: Wanted rentals, For Sale - Private.

***Sold in 4 Days*** - $150,000! xxxx Truman NE (3-4 BR,2 BA,xxxx SF, 27-ft BKYD Alley Access, MLS#xxxx98)
Location: Uptown -Bel Air
On the market for 7 months with another agent, but pended after 4 days when relisted and staged! Great family home with a huge backyard that's an entertainer's delight. Come experience the large, covered rear patio, private hot tub with deck and spectacular Koi pond that has not one, but two lovely and soothing water features. There is rare 27-ft backyard access through a rear alley that can accommodate an RV (hook-up & dump on-site) plus all your large vehicles and toys! There is also a 350-SF workshop with electrical hookup, attic storage plus an attached storage shed. This home is situated in a very convenient Uptown location that is close to everything and boasts an updated kitchen that opens to the great room and dining area, a cozy pellet stove plus an updated master bathroom with a huge jetted garden tub. Other updates include tile and laminate flooring - NO carpet, thermal windows, rock AC, newer roof, fresh paint & much more! Three other bedrooms are nicely separated from the master. Landscaped front and back with low maintenance southwestern rock.
Information
Contact Information
Holly Wong Jones
505-715-xxxx
Contact Reply Form
Forward to a Friend
View Other Flyers
Pricing
Price: $150,000.00
Property Location
xxxx Truman Street NE
Albuquerque, NM xxxx0
View Map
Links
Listings By Holly
Features
Bedrooms: 4
Bathrooms: 2
Lot Size: 0.17 Acre
School District: Del Norte High School
Square Footage: xxxx
Agent Name: Holly Wong Jones
Broker: Keller Williams Realty
MLS #: xxxx98
Levels: Single
Heating: Central Forced Air
Cooling: Evaporative - MasterCool
Attributes
Appliances
Full Refrigerator
Dishwasher
Sink Disposal
Microwave
Gas Range/Oven
Interior Amenities
Kitchen Island
Pellet Stove
No Carpet
Backyard Access
Exterior Amenities
Hot Tub
Grass Lawn
Tool Shed
Covered Patio
Powered Workshop
17-FT Slide & 10-FT Swing Gate in Rear
Photo Gallery
View as SlideshowView Photo Gallery (21 Photos)
Powered by vFlyer.com
EQUAL HOUSING OPPORTUNITY
VFLYER ID: xxxxxxxx3
All information in this site is deemed reliable but is not guaranteed and is subject to change
*
Magi, F, 28 Santa Fe, NM, United States $800 USD per month Looking for entire place Pet friendly, efficiency space...
Price: $800

Looking for apartments
Miranda, F, 21 Albuquerque, NM, United States $400 USD per month Looking for entire place Apartment or Studio Contact me
Price: $400

Price: $680,000

Price: $680,000