2012 Harley-Davidson FLS - Softail Slim in Albuquerque, New Mexico For Sale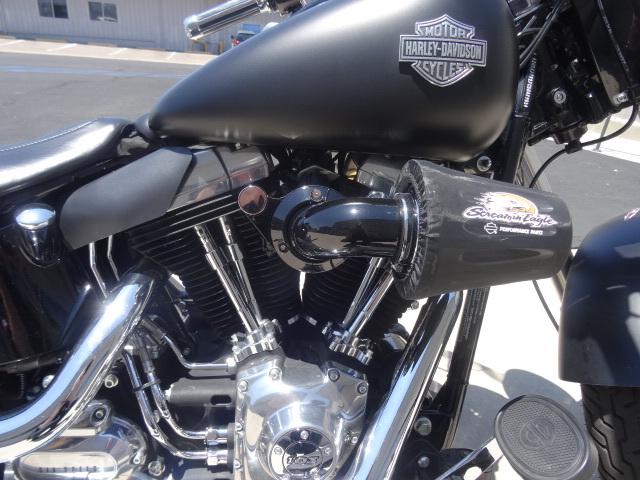 Price: $14,494
Seller:
Type: Business, For Sale - Private.

.
xxxx Harley-Davidson FLS - Softail Slim
$xxxx4
Call (505) 436-xxxx ext. 208
Duke City Harley-Davidson
(505) 436-xxxx ext. 208
xxxx LOMAS BLVD NE,
ALBUQUERQUE, NM xxxx2
Biker Brad (505)697-xxxx. Text or call, and I can help you get financed today from the comfort of your home!
xxxx Harley-Davidson Softail Slim
The xxxx Softail Slim FLS blends raw, minimalistic xxxxs bobber styling with up-to-date old school minimalism. The Slim offers tons of stripped down attitude, fat features, including black-rimmed wheels, round black air cleaner cover, Hollywood-style handlebars, and fat chromed front forks, as well as raw, minimalistic finishes throughout. Its chopped rear fender and narrow rear profile adds to the Softail Slim's long, lean vintage chopper look. The 103cc Twin Cam engine gives the Slim FLS the power punch you need to crush those hills or leave traffic passed and behind. The Softail FLS sports blacked out features and raw finishes for a no-nonsense attitude that recalls classic bobbers of the xxxx; the engine, rims, air-cover, headlamp and more are all blacked out. The Harley-Davidson Slim rides with confidence-inspiring handling, at low and high speeds, and its light design makes putting it on or lifting it off its easy jiffy stand quick and easy. The Harley Slim is a great value with muscular, minimalist styling and powerful performance packed into a bike that's affordable.
Key Features may include:
"HOLLYWOOD" HANDLEBARS AND "CAT EYE" CONSOLE
A cutting-edge ride that's rich with Harley-Davidson history, the Slim model's old-iron soul comes alive right up front. Unique retro-inspired handlebars call back to the glory days of xxxxs bobbers, while the gloss-black headlamp cover and the "Cat Eye" console with its retro speedo face add even more swing-era swagger.
NARROW REAR PROFILE
The narrow rear tire and chopped fender with its integrated stop/turn/tail light and side-mounted license plate add up to a stripped-down profile that evokes the iconic, no-nonsense style of classic bobbers.
ROUND AIR CLEANER COVER
The gloss-black retro round air cleaner cover gives the Slim model's minimalist, blacked-out Twin Cam 103 Engine a raw old school lookit's modern power with old iron attitude.
HIDDEN REAR SHOCKS
If you want a comfortable bike but love that rigid-suspension look, you've come to the right bike. We've kept all the modern comforts where they belongbelow the surface of a rad, vintage-looking bike. You get the classic lines of a vintage 'hardtail' frame with the horizontal rear shocks hidden in the guts. It's a signature rigid look, and you'll only find it on a Softail model.
TWIN CAM 103 ENGINE HERITAGE
The knowledge of what makes an engine truly move a rider runs deep at The Motor Company, and it was put to good use when we created the Twin Cam 103 engine. We sweated bullets perfecting every cubic inch, pushing design and technology forward. And we did it all without compromising one bit of Harley-Davidson's unique styling. Evolved, yet carrying on the legacy of the Flathead, Knucklehead, Panhead, Shovelhead, Evolution, Twin Cam 88; and Twin Cam 96 engines that came before. The performance and durability are a direct result of the untold miles logged on the V-Twin since xxxx, and the proud heritage that comes from a century's worth of commitment to life on two wheels.
Vehicle Price: xxxx4
Odometer:
Engine:
Body Style:
Transmission:
Exterior Color:
Drivetrain:
Interior Color:
Doors:
Stock #: xxxx03
Cylinders:
VIN:
Standard Equipment:
xxxx Harley-Davidson FLS - Softail Slim
$xxxx4
Call (505) 436-xxxx ext. 208
BIKER BRAD
(505) 436-xxxx ext. 208
Duke City Harley-Davidson
xxxx LOMAS BLVD NE
ALBUQUERQUE, NM xxxx2
.
Custom Street Glide
2013 Custom Street Glide Lowered 1" front and back Custom Paint Dash painted Lowers with speakers After market...
Price: $2,013


Price: $9,999

Price: $11,999

Price: $2,000


2009 BMW G 650 GS
. 2009 BMW G 650 GS $5950 Call (505) 716-4541 ext. 293 Sandia BMW Motorcycles (505) 716-4541 ext. 293 6001 Pan...
Price: $5,950


2010 BMW K 1300 S
. 2010 BMW K 1300 S $10750 Call (505) 716-4541 ext. 250 Sandia BMW Motorcycles (505) 716-4541 ext. 250 6001 Pan...
Price: $10,750